When it comes to compassionate medical care, one would be hard-pressed to find someone more committed than Kayla Herget, MD. Kayla is one of four doctors participating in this year's Indiana University School of Medicine's (IUSM) Fellowship Program in Hospice and Palliative Medicine. Her Fellowship education was made possible by a generous grant from the Vera Z. Dwyer Charitable Trust. The other current Fellows are Peter Baenziger, MD; Joanna Coughlin, MD; and Elaine DiOrio, MD. 
"My decision to go into palliative care was based on experiences with my family, as well as patients I've interacted with," Kayla reflected. "I was drawn to holding their hand, hugging them, crying with them, feeling with them." For Kayla, palliative care is very personal. Her mother, who passed away two years ago from a genetically inherited neuromuscular disease, was a big driver of her choice of career path. "My motivation for going into medicine revolved around my mother. From her, I learned empathy, kindness, caring as well as grace. She maintained a sense of grace and dignity – of living her life to the fullest, despite a life-limiting illness."
Kayla communicated a sense that palliative and hospice care are avenues to helping patients maximize the time they have left – not necessarily the quantity, but the quality. "It's the reason I leaned toward palliative care, to focus on quality of life." In addition to the medical consequences of having a life-limiting illness, patients and their families have myriad other concerns – anxiety, worry, depression, guilt and fear, among others. Hospice and palliative care seeks to treat the whole person throughout the life-cycle of the illness.
"Once we implemented a palliative approach to my mother's care, what changed is that we were able to keep her at home, comfortable, where she really wanted to be, with her family surrounding her," recalled Kayla. "As opposed to coming in and out of the hospital and getting aggressive care that starts to become painful. We were able to spend that time in a much more meaningful way."
As Kayla advanced through medical school, she became more attuned to her mother's condition – a process that helped shape her future. "I watched my mother decline as I gained more knowledge. Ultimately, I saw signs in her that we were nearing the end. And I experienced in the people who loved her, the pain and discomfort of that realization," remembered Kayla. "I recognized the need for medical professionals to support our family in a way that is different from the traditional thought of curing, by focusing more on simply living with quality."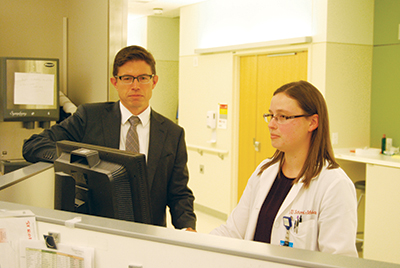 Dr. Lyle Fettig, the director of the Fellowship Program, views this type of care in a similar light. "Palliative care is a medical specialty that was developed to better meet the needs of patients with serious illness," noted Dr. Fettig. "Palliative care physicians work with specialized teams to provide an extra layer of support – to help with symptom management, psychological needs, and social support needs. It not only focuses on the needs of the patients, but also the needs of the patient's family."
"Palliative care offers a unique space to spend time with patients and their families, and dig into who they are, and what is truly meaningful to them," Kayla said. "It supports both the family and the patient, as well as helps medical providers align medical treatments and technologies with their goals for care."
The Fellowship Program
One of the challenges presented to those learning hospice and palliative medicine is getting enough "real-world" experience – experience that is essential to being a successful physician. Filling that critical need was a driving force behind the creation of IUSM's Fellowship in Hospice and Palliative Medicine. The program, launched in 2005, allows physicians to rotate through several hands-on experiences to hone their skills and broaden their perspective.
Dr. Greg Gramelspacher, a professor of medicine at IU School of Medicine and founder of the program, saw a need years ago for a better approach to handling patients nearing the end of their lives. "For seven years, I did ethics consultations which called me to the bedside of dying patients. There would be a dilemma about what we should do with a dying patient. So the doctors would call me in to help sort out the issues," recalled Dr. Gramelspacher. "That background helps explain a little bit about how I spent the next 20 years." 
One particular case in the mid 1990's crystallized the key issue that concerned Dr. Gramelspacher – that not truly understanding and then honoring patients' wishes at the end of life was ultimately a failure of the medical education provided to doctors. "What was futile is the way we educate our physicians," reflected Dr. Gramelspacher. "If we can't do any better than this for dying patients, then we should tear up the curriculum and start over." It was from this deep feeling of concern for how dying patients were treated that ultimately inspired him to create a program, and then a Fellowship focused on hospice and palliative care.
"In 1997, I worked on a needs assessment, and then developed a hospice and palliative care program for the hospital. We were an early adopter. I knew we needed to do things differently and that ethics consultation wasn't enough – it was too little, too late," recalled Dr. Gramelspacher. "If had I been consulted as a palliative care doctor, we would have dealt with the iceberg and not the tip. The tip is the resuscitation status, the iceberg is: who is this person, where does he live, how has he lived his life, what does he understand about his illness, what's really important to him?"
The hospice and palliative medicine program sought to educate physicians on the importance of understanding the full context of a patient's illness and treatment. Rather than focusing on curative treatments for the terminally ill, the focus shifted to helping patients maximize the quality of their time left. "From the very beginning, we were interested in being involved and engaged in the community. To try to make death and dying less of a medical problem to be managed by doctors and nurses in the hospital, and more of a human problem, to allow our patients to die at home, if that's what they want to do," said Dr. Gramelspacher.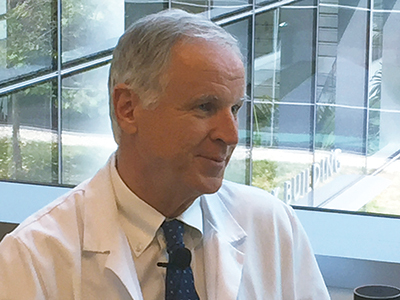 Partnership with Center for Hospice Care
To gain the necessary experience, the Fellowship Program needed to create partnerships that would give the Fellows access to patients at all stages of illness. A critical component of the program is the four-week rotation that each Fellow completes at Center for Hospice Care. "Our Hospice and Palliative Medicine Fellowship aims to give our future physicians the knowledge and skills necessary to provide excellent palliative care to our patients," said Dr. Fettig. "Importantly, our Fellows have the excellent opportunity to rotate through Center for Hospice Care where they are exposed to the best possible care that patients can receive at a hospice unit… and that significantly improves the educational experience they receive."
By working with CHC, Fellows are able to get the practical experience they need at multiple stages of a life-limiting illness. "Patients and their families who are experiencing any type of serious illness deserve the best possible palliative care all throughout the trajectory of their illness, from the time of diagnosis to the time they are dying," remarked Dr. Fettig. "As patients get to the more advanced stages of their illness, they benefit greatly from the services that hospice provides, and Center for Hospice Care is one of the best hospices in the state and the region." 
"The reason the partnership with hospice is so important is that so many patients want to die at home, and the best way to make that happen is to engage hospice," commented Dr. Gramelspacher. "The whole specialty has grown out of the hospice movement. There can't be competition between hospital-based palliative care and hospice. It's got to be hand in glove – a warm handoff, a smooth transition."
CHC provides an ideal environment for the Fellows to hone their skills in hospice and palliative medicine. "There's no substitute for simple experience in terms of our learning how to be good doctors," noted Kayla. "We're lucky to have this partnership with Center for Hospice Care where we get to practice in an inpatient unit, which is the best location we could have for training in terms of size, and number of people we have the privilege to help take care of." Kayla will begin her CHC rotation in May 2018.
Peter Baenziger, one of the four Fellows in this year's class, recently completed his rotation at CHC. As he stated just prior to his final day with CHC, "My experience at Center for Hospice Care has been an incredible learning opportunity. The staff, facilities and processes are excellent. I'm grateful to have been able to obtain such real-world experience with so many diverse patients."
The Vera Z. Dwyer Trust
Through the generous support of the Vera Z. Dwyer Charitable Trust, CHC is able to fund a fourth Fellowship seat at IUSM – with Kayla being named as the first Vera Z. Dwyer Fellow. With $500,000 seed money, CHC will sponsor one Fellow per year for five years. That five-year period gives CHC time to raise the additional $1 million needed to take full advantage of the $1 million matching grant generously provided by the Dwyer Trust. 
"Hospice and palliative medicine is a relatively new medical specialty, and sometimes with new programs, it's difficult to obtain funding. Over the 12 years of the fellowship training program, we've benefitted from generous philanthropic support to help make sure we can provide training to up to three Fellows," noted Dr. Fettig. "We've received wonderful new philanthropic support through the Vera Z. Dwyer Charitable Trust that has allowed us to expand our Fellowship program, and importantly meet the needs of patients throughout Indiana. It also solidifies our partnership with Center for Hospice Care," commented Dr. Fettig. "Through solidifying this partnership we will be offering additional continuing medical education opportunities for physicians and other providers."
"Without funding sources like the Dwyer Trust, positions like this might not even be possible. We wouldn't be able to train more doctors in palliative medicine, which is really giving back to the community, noted Kayla. "We're grateful to the Vera Z. Dwyer Charitable Trust, and to Center for Hospice Care, for allowing us the opportunity to train in their inpatient hospice unit where we will arguably get the best opportunity for training in the state."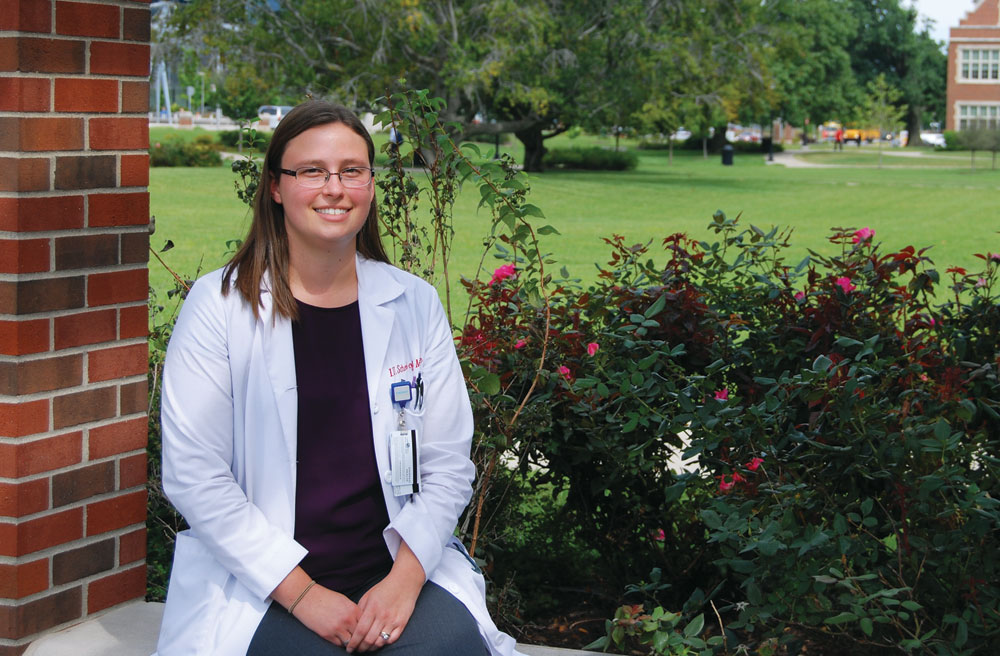 Into the Community. Into the World. 
Expanding the reach of hospice and palliative care is inherent in CHC's mission, and the partnership with IUSM makes that possible. "We've had several of our graduates take jobs in central and southern Indiana, and we'd like to expand opportunities for our Fellows to take positions in the northern part of the state as well," commented Dr. Fettig.
"One of the things that I've been impressed by with my visits to Center for Hospice Care is the educational outreach programs they provide to the local community. And with that mission in mind, it makes it very comfortable for our Hospice and Palliative Care Fellowship program to partner with Center for Hospice Care," noted Dr. Fettig. "With this partnership, I think we have an opportunity to have significant synergies to improve palliative care education not just through our Fellowship, but also going forward into the future as our graduates go out into the community and provide education to other physicians and the community at large."
Community education is an important part of the work of the Hospice Foundation, as it strives to support CHC's mission "to improve the quality of living." This improvement begins with awareness and knowledge. The awareness of doctors and patients of the need to have difficult conversations about end-of-life care, and the knowledge of how to best have those conversations. "All of our Fellows attend a three-day specialized communication skills program that is provided in addition to the training they receive throughout their clinical rotations," noted Dr. Fettig. "This helps them be better able to explore the goals and values that patients and families have in the face of serious illness, provide better emotional support, and make sure the medical plan is aligned with the goals and values of the patients."
Another feature of this Fellowship Program is the international rotation made available to all four Fellows. Through a partnership with AMPATH, an IU program in Eldoret, Kenya, Fellows experience a different environment and different points of view. "They get wonderful exposure to hospice and palliative medicine provided to patients and families in Kenya," remarked Dr. Fettig. "Through that experience they have an enhanced understanding of the power of being able to provide this care to any human, regardless of their cultural background, language or any other variable."
This international program significantly enhances the educational experience of the Fellows. "We have lots of opportunities to work internationally. Specifically, we have a very strong partnership with a hospital in Kenya, where we both send residents and Fellows for training, as well as invite their trainees to spend time with us," noted Kayla. "The beauty of the program is that we partner with locals who are on the ground 24 hours a day, seven days a week, all year-round providing care and support to the people of Kenya." The combination of the opportunities the Fellowship provides, and the partnership with CHC has created a unique educational experience for the Fellows.
A Noble Calling
What drives Kayla and the other Fellows, Dr. Fettig and Dr. Gramelspacher is the same passion that propels Center for Hospice Care – the desire to help others improve the quality of living even at the last stages of life. Helping loved ones honor their own choices, live their final days on their own terms, with less pain and suffering, is truly a noble calling.