Center for Hospice Care's Helping Hands Award is presented to members of our community who have made a significant difference in the lives of others.
Our Honorees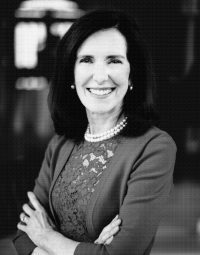 Catherine Hiler was born in Belfast, N. Ireland, and emigrated to the U.S. with her parents and two brothers, joining extended family in New Jersey. Catherine earned her B.A. from Fairleigh Dickinson University in New Jersey; and pursued graduate study in corporate finance and business management at George Washington University and Golden Gate University.
Catherine then spent several years in San Francisco where she worked at First Interstate Bank of California as a corporate lending officer. After moving to Washington, D.C. in 1977, Catherine served on the minority staff to the Committee on Government Relations for the House of Representatives. She also served as Executive Director for both the Federal Mine Safety and Health Review Commission and the White House Conference on Small Business. It was in Washington, D.C. that she met her future husband, Congressman John P. Hiler of Indiana.
Since moving to South Bend in 1993, Catherine and John have raised three daughters – Alison, Caitlin and Morgan – and served the community in many capacities. Catherine served on The Stanley Clark School board of trustees and was a parent representative on the John Adams High School committee that established the International Baccalaureate magnet program. In 2016, Catherine received the Individual Philanthropist of the Year Award from the Association of Fundraising Professionals.
We like to believe that Catherine found her true passion when she was asked to serve on the Center for Hospice Care (CHC) board as a volunteer member and ultimately, the Hospice Foundation board. If that were not enough, Catherine graciously agreed to chair our five-year comprehensive campaign, "Cornerstones for Living: The Crossroads Campaign." This highly-successful five-year campaign focused on raising money to endow many of our signature programs and complete development of our Mishawaka Campus.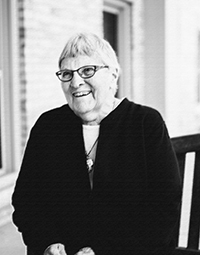 For more than 60 years, Sr. Carmel has dedicated her life to serving others both locally and internationally. As a Sister of the Holy Cross, she has mentored several generations of children as a teacher, enriched the lives of numerous individuals through her various volunteer endeavors, and enjoyed the comaraderie of her fellow Sisters while serving in Brazil.
Born in South Bend, Sister Carmel has spent most of her life in the area. She attended St. Mary's Prep School, St. Joseph's Academy and St. Mary's College before venturing to Fort Wayne to earn her master of science in education from St. Francis College. Sr. Carmel's teaching career began in 1954 and continued through 1985. Following her "retirement," she began serving as librarian at St. Joseph High School, and only recently "retired"  – at the age of 85 – from her service as an assistant librarian.