Center for Hospice Care's Helping Hands Award is presented to members of our community who have made a significant difference in the lives of others.
Our Honorees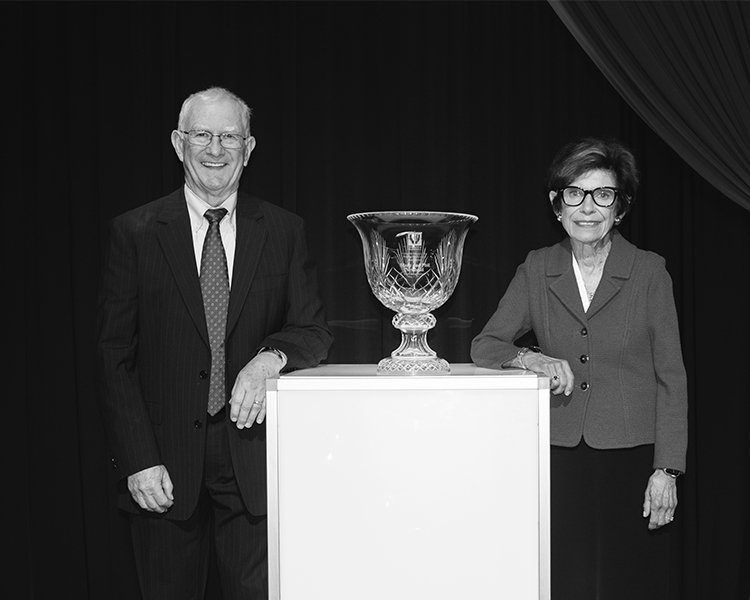 The 38th Helping Hands Award honored Mary and Phil Newbold for their commitment to improving the quality of living in our community, which is evident in both their professional and personal lives.
Phil spent his entire career helping to improve the health and well-being of people. He served as a senior executive at St. Luke's Hospital in Cleveland and CEO at Baptist Medical Center in Oklahoma City and then dedicated 29 years as CEO of Memorial Health System and Beacon Health System, before stepping down in 2017. With his support, Center for Hospice Care's After Images art counseling program was established with an initial grant from Memorial Hospital's tithing program more than a quarter century ago. During our most recent comprehensive fundraising campaign, Cornerstones for Living: The Crossroads Campaign, Memorial Hospital also made the lead gift to establish an endowment to ensure the sustainability of this important bereavement program. Recently, Phil agreed to serve as Center for Hospice Care's interim CEO pro bono, adding to a long list of leadership roles with a host of community organizations including the Family and Children's Center, Center for the Homeless and the Medical Education Foundation.
Mary has been a long-time supporter of Center for Hospice Care and Hospice Foundation, including being a member of both organizations' board of directors. She currently serves as chair of the Foundation board. In addition, Mary has been a member of both the Junior League and Junior League Sustainers, the Antiquarians of St. Joseph Valley and The Stanley Clark School parent board where she served as chair. She has also taught Sunday School at the Sunnyside Presbyterian Church as well as volunteering on committees for dozens of award dinners and community events, including – along with Phil – two stints chairing the Helping Hands Award Dinner.
Mary and Phil's commitment to each other reaches a milestone this year as they celebrate 50 years of marriage. They have been blessed with a son, John, who is a high school guidance counselor in Plainfield, Indiana and two daughters. Anne is an emergency room physician in Boulder, Colorado; Kate works at Beacon Health System as a digital transformation director.
We were honored to present Mary and Phil Newbold with the 38th Helping Hands Award for their life of commitment and their commitment to life!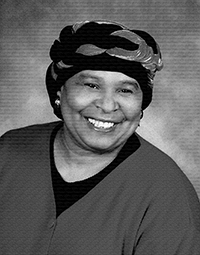 The 37th Helping Hands Award Dinner recognized the significant contributions of community organizer Gladys Muhammad. Her work at the South Bend Heritage Foundation and as a volunteer with numerous organizations has helped improve the quality of living for our community.
A South Bend native, Muhammad retired from the South Bend Heritage Foundation in 2020 after 34 years of service. She joined the foundation after working for the City of South Bend and helping start The Shelter, a 24-hour emergency shelter for abusd women sponsored by the YWCA. Even in retirement, Gladys continues to be instrumental in organizing South Bend's yearly Martin Luther King, Jr. Day celebration.
Her connections in the community run deep, from her roots on the west side of South Bend where she grew up, and into local government, non-profit organizations and higher education. She has been the go-to person for many community initiatives – even now she is part of the Project Impact Group South Bend that is raising an estimated $60,000 to purchase, transport and place a statue of Harriet Tubman at a prominent location in South Bend.
The Helping Hands award is the most recent in a memorable list of honors for Muhammad. These include:
South Bend Hall of Fame
Sagamore of the Wabash
Key to the City of South Bend
YWCA Woman of the Year
Congressional Tribute by The Honorable Joseph Donnelly
We were honored to present Gladys Muhammad with the 37th Helping Hands Award.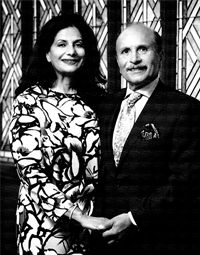 The year 1980 saw two major developments in the healthcare industry in our community – oncologist Dr. Rafat Ansari began caring for patients at Michiana Hematology Oncology and Center for Hospice Care served their first patient. The Ansaris were chosen for the 36th Helping Hands Award to recognize their exponential impact in our community through their acts of kindness and philanthropy.
The Ansaris were integral in establishing autism advocacy and services in our community through the creation of the Sonya Ansari Center for Autism at LOGAN Center in South Bend. the center, named for their daughter Sonya, provides a range of services, resources, and training for parents, educators and professionals who face the daily realities of autism. In addition, Zoreen and Rafat presented a transformational gift to the University of Notre Dame to establish the Ansari Institute for Global Engagement with Religion in the Keough School of Global Affairs. The Institute focuses on religious studies and research, with worldwide engagement and education. Further demonstrating their commitment to education, Zoreen was essential in the creation of two elementary schools in Sindh, Pakistan. Rafat's published work in oncology care has provided guidance to the medical community at large. The compassionate care, support and guidance provided through their work as physicians has given great comfort to innumerable patients and families in our community.
Zoreen and Rafat moved to South Bend in 1980 and locally raised their three children, Sarah, Adam and Sonya. Through their ongoing work and generosity, the Ansaris have created a ripple effect across the community and around the world. Center for Hospice Care and the Hospice Foundation are honored to recognize Zoreen and Rafat by sharing the wonderful ways they are improving the quality of living for so many.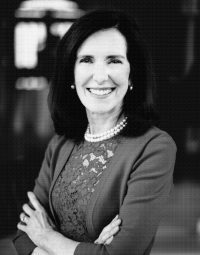 Catherine Hiler was born in Belfast, N. Ireland, and emigrated to the U.S. with her parents and two brothers, joining extended family in New Jersey. Catherine earned her B.A. from Fairleigh Dickinson University in New Jersey; and pursued graduate study in corporate finance and business management at George Washington University and Golden Gate University.
Catherine then spent several years in San Francisco where she worked at First Interstate Bank of California as a corporate lending officer. After moving to Washington, D.C. in 1977, Catherine served on the minority staff to the Committee on Government Relations for the House of Representatives. She also served as Executive Director for both the Federal Mine Safety and Health Review Commission and the White House Conference on Small Business. It was in Washington, D.C. that she met her future husband, Congressman John P. Hiler of Indiana.
Since moving to South Bend in 1993, Catherine and John have raised three daughters – Alison, Caitlin and Morgan – and served the community in many capacities. Catherine served on The Stanley Clark School board of trustees and was a parent representative on the John Adams High School committee that established the International Baccalaureate magnet program. In 2016, Catherine received the Individual Philanthropist of the Year Award from the Association of Fundraising Professionals.
We like to believe that Catherine found her true passion when she was asked to serve on the Center for Hospice Care (CHC) board as a volunteer member and ultimately, the Hospice Foundation board. If that were not enough, Catherine graciously agreed to chair our five-year comprehensive campaign, "Cornerstones for Living: The Crossroads Campaign." This highly-successful five-year campaign focused on raising money to endow many of our signature programs and complete development of our Mishawaka Campus.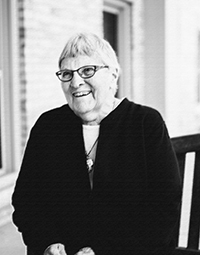 For more than 60 years, Sr. Carmel has dedicated her life to serving others both locally and internationally. As a Sister of the Holy Cross, she has mentored several generations of children as a teacher, enriched the lives of numerous individuals through her various volunteer endeavors, and enjoyed the comaraderie of her fellow Sisters while serving in Brazil.
Born in South Bend, Sister Carmel has spent most of her life in the area. She attended St. Mary's Prep School, St. Joseph's Academy and St. Mary's College before venturing to Fort Wayne to earn her master of science in education from St. Francis College. Sr. Carmel's teaching career began in 1954 and continued through 1985. Following her "retirement," she began serving as librarian at St. Joseph High School, and only recently "retired"  – at the age of 85 – from her service as an assistant librarian.