Now in its 35th year, Center for Hospice Care's Helping Hands Award is presented to members of our community who have made a significant difference in the lives of others. You may visit our 2019 Helping Hands Award page to learn about our next recipient Catherine Hiler.
Our Past Honorees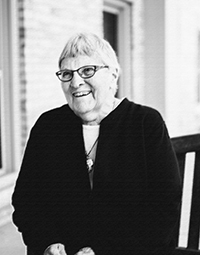 For more than 60 years, Sr. Carmel has dedicated her life to serving others both locally and internationally. As a Sister of the Holy Cross, she has mentored several generations of children as a teacher, enriched the lives of numerous individuals through her various volunteer endeavors, and enjoyed the comaraderie of her fellow Sisters while serving in Brazil.
Born in South Bend, Sister Carmel has spent most of her life in the area. She attended St. Mary's Prep School, St. Joseph's Academy and St. Mary's College before venturing to Fort Wayne to earn her master of science in education from St. Francis College. Sr. Carmel's teaching career began in 1954 and continued through 1985. Following her "retirement," she began serving as librarian at St. Joseph High School, and only recently "retired"  – at the age of 85 – from her service as an assistant librarian.