I wanted to start out this update by letting you all know that there was NOT a rat in my kitchen like I said in my last post! I left the girl next door with my kitchen key one day and she went in to clean out what we thought was a rat. I am embarrassed to say that this was totally my doing because there was a cracked egg in my garbage can and that's what was causing such a bad smell. Although there was no rat, I came back to a spotless kitchen, so that was a really nice surprise after a day at the office.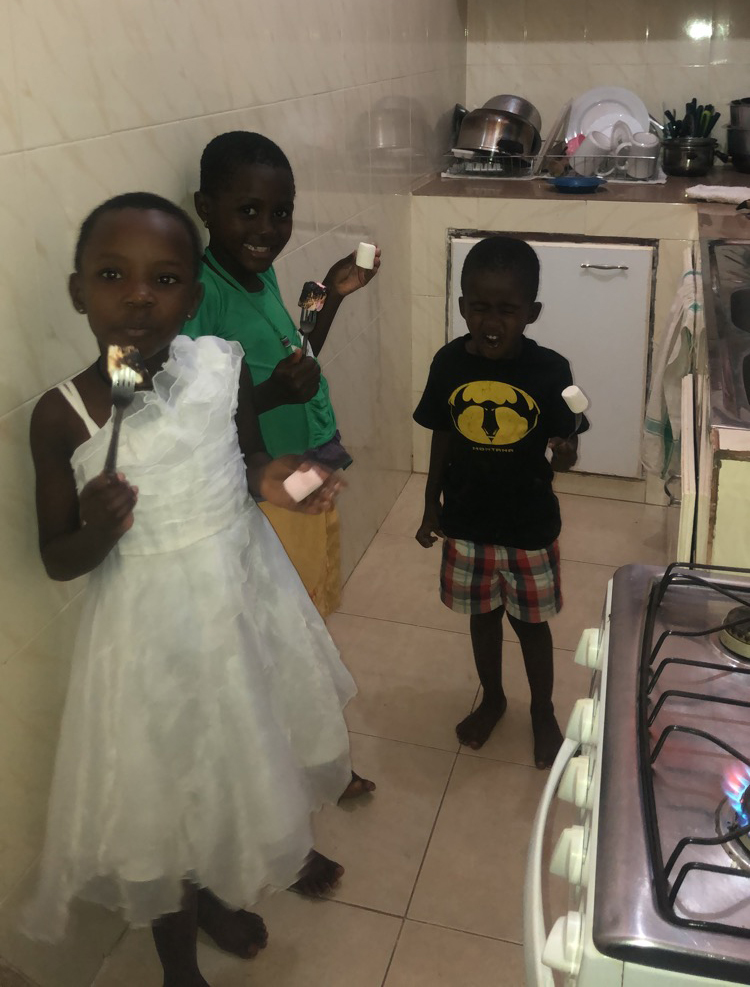 However, my clean kitchen did not last long because I decided that I had to teach the kids how to roast marshmallows, after all the Fourth of July was that week, so it seemed fitting. I enjoyed watching them figure out how to roast the perfect marshmallow, and now they come over knocking and asking for more! I will need to make sure I have a bigger stash of them next time.
Anyway, moving on, I had a wonderful Fourth of July! I went to the restaurant that the U.S. Embassy employees tend to go to, and ended up meeting multiple Notre Dame alums. It was so cool to learn about all of their lives and the paths they took to get where they are today. I ended up going to one of their homes on Friday night for their family movie night and then I hung out there the next day with them and their kiddos. After hearing about their interesting lives, I definitely have a lot to think about in terms of my own career path. I have never really explored the idea of going into Global Health, but the more time I spend here, the more I think that I would really enjoy it.
As far as the Road to Hope Program and my work with PCAU, I am still waiting on feedback from my supervisors on the projects I have completed, so I am trying my best to think outside the box and work on some other things that I think could help PCAU. Other than that, I had the opportunity to meet my first child that benefits from the program. George, who was the first kid in the RTH program, was baptized at school on Sunday, so I chose to attend with Rose and Lydia. After watching the Road to Hope documentary, Okuyamba, and reading George's file, it was amazing to finally meet him in person. Although George has been through so much and still does not have an easy life, he seems to be happy, so I definitely enjoyed seeing a "success story" from the program.
Last night, for the World Cup finals, I was trying to stream the game on my computer, but was having connection issues. So, I took an Uber to a nearby hotel for the game. Surprisingly, I was the only one there that was interested in the game, but it was still fun to watch. I couldn't believe that I was sitting in Africa watching the U.S. Women's team become world champions. It was such a fun experience!
This week, I will be visiting Kawempe Home Care and getting a tour of their hostel. I am not sure yet who will be going with me, but I love any opportunity to travel around Uganda.
Stay tuned for my next update after my Kawempe Home Care visit. As always, thanks for your support!