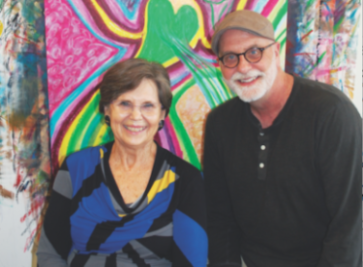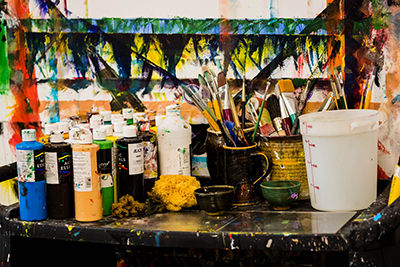 Sometimes healing has no words. Sometimes it's a color. After the death of Barbara Coleman's adult daughter, Cherie, words weren't available. They fled from her.
"I had always journaled and written," Barbara shared. "But there were no words for this. Not one word." But inside the art studio at Mishawaka's CHC building, Barbara's story started to unfold. And it was bright, brilliant, messy and beautiful.
Cherie's story
Cherie's story will connect with many of us. Diagnosed with bipolar disorder when she was very young, Cherie wrestled with pain, physically and mentally, for years. She had attempted suicide multiple times. It was an excruciatingly long journey for Barbara as well. The desire of a mother to relieve her child's suffering is universal.
At 40 years of age, Cherie overdosed on Oxycodone. Barbara experienced a deep anguished cry that connected her to every mother who had ever lost a child. "It was in every cell of my body," she said.
She turned immediately to CHC's Bereavement Department for help. "The day after my daughter passed, I had my first appointment. I needed it." Death is difficult and suicide is so hard. It still has a stigma. "We try to hide things we think may be shameful," Barbara said, But hiding can't lead to healing. Barbara knew she needed help and she was brave enough to pursue it.
The Colors of Healing
The art studio was sacred space. With sunlight spilling in, walls covered in budding masterpieces and the smell of colors, it was inviting and cheerful. "I could be devastated," Barbara recalls. "I could cry. I could laugh. I could release all of my emotions very safely in that container. It was a very safe place, which is key to healing."
For a year, Barbara came in weekly. She would first chat with Dave Labrum, CHC Art Counselor. Then she began her work. "It was so visceral," she remembers. "Images move immediately to the subconscious mind. They bypass the brain." The art process freed her from the cycle of self-judgment so she could express her deepest grief.
She had her little spot in the art room. You could tell. She created all over the wall. "I just pushed and pushed and moved the paint. I rarely stood back far enough to see what I had done. I wanted to be in it. I wanted to feel as if I were entering the painting." The experience was so sensual, utilizing all her senses. "You can smell the paint. You can feel it. You can see the brilliance of the colors."
Barbara's colors changed throughout her healing process. Early on, her pieces weren't vibrant in color. She rubbed the colors so hard, physically exerting her emotions that she rubbed the color out. Then the vibrant colors started to emerge, beautiful colors, reaching and grasping for healing. "I am always represented by the yellow in my pieces," Barbara shares. "Color was very important to me."
She created over forty beautiful pieces throughout that year. Cherie was definitely expressed in her artwork. One piece, a glorious swirl of green, intertwining intimately represented her and Cherie connecting. "This was when I really knew I was going to heal," Barbara said. "Cherie was with me through all of this. I felt her presence."
The art studio acted as the quiet place in her life where she and Cherie could spend time together. Barbara learned how to redefine and mold her relationship with Cherie, as well as rebuild her own life. "What I learned in this process," Barbara continues, "is that this is my journey. It was no longer my daughter's journey. It was my journey to healing."
She just knew when she was done. Her last piece connected her with so many other grieving mothers. "My last piece was about other grieving mothers," she explained. "I believe that brought me to completion, the recognition of the universality of this. The last piece took it from the personal to the collective. I've moved through my personal journey, and it will continue. This is a journey of everyone."
Barbara can't say enough about CHC's Life Transition Center. The Living with Loss group, individual sessions with bereavement counselors and art counseling with Dave Labrum all supported her as she did the challenging work of healing. "A community of understanding that you can truly share your grief with… that is what is offered here."