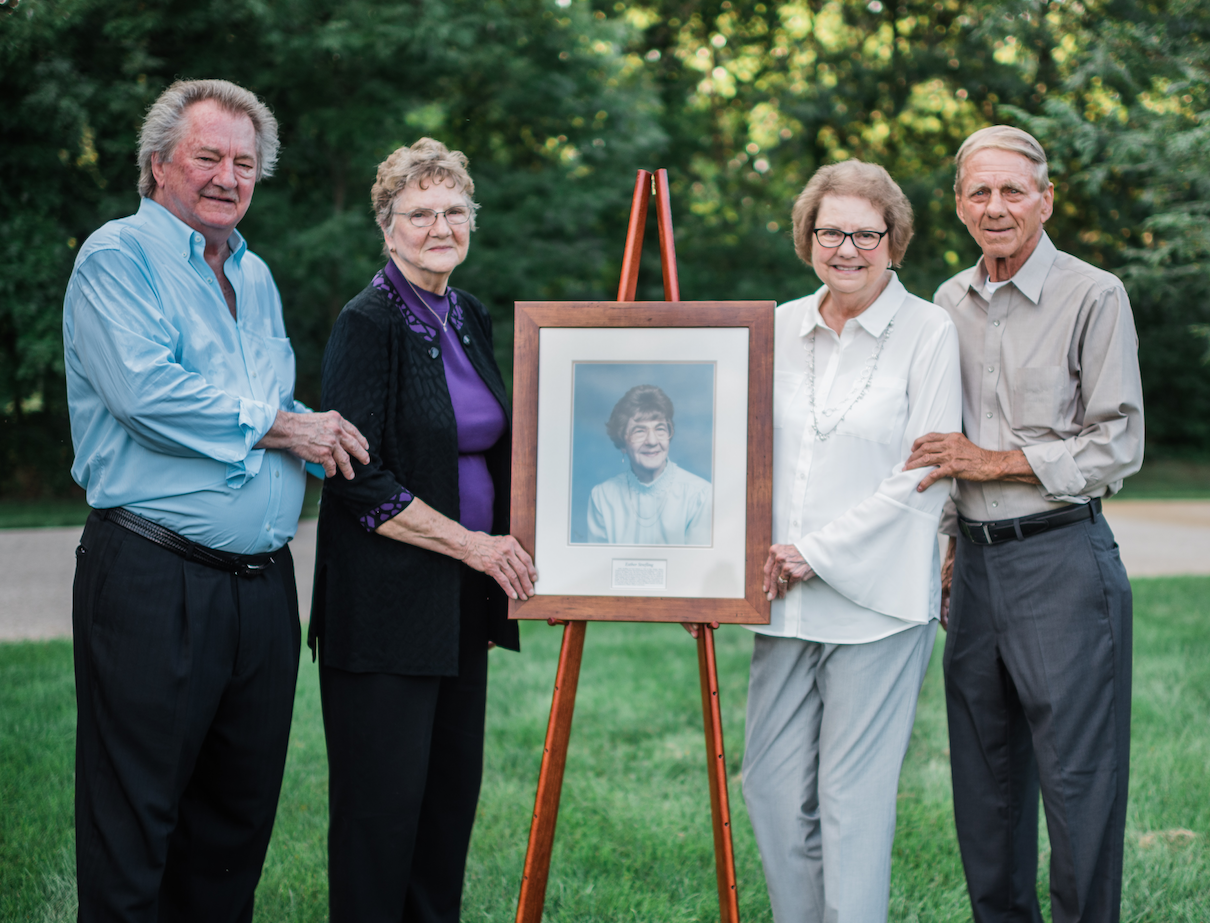 August 16 was a muggy evening to be sure – but it was hard to tell if the warmth felt by the guests came from the lingering sun or the wonderful spirit of the event. Celebrating 10 years of serving patients on Center for Hospice Care's (CHC) Elkhart Campus was a significant milestone worthy of commemoration. What made this event particularly special was it served as the perfect time to rededicate the Elkhart inpatient care facility in honor of a special woman who served her community and raised generous children.
Esther Strefling was born January 5, 1915 in New Sarepta, Alberta, Canada as Esther S. Ertman. She married Edward M. Strefling in 1937 and they moved to the Elkhart area. She had a long and fruitful life – serving her community, raising a family and running a business. Esther died on July 21, 2004 as she received care from Center for Hospice Care. Her son, Richard W. "Dick" Strefling, and her daughter-in-law, Rita Strefling, made a generous gift through the Strefling Foundation in appreciation of the compassionate care Esther received, and to help ensure others in the greater Elkhart area could receive quality care in a home-like setting.
"In the Old Testament, Esther was known and admired for the courage, strength and comfort she showed in saving her nation from disaster. Mom exemplified some of the same virtues in her life. She was the strength, courage and comfort for our family and those who knew her," remarked Dick Strefling. "We decided this would be a wonderful way to honor our beautiful mother, and we are truly honored and humbled to have the opportunity to call this wonderful facility Esther's House. I would like to thank the entire staff at Center for Hospice Care. They give all of us comfort, strength and courage during the most difficult times in our lives. They are truly angels."
The rededication took place under a white tent and a mostly blue sky. The rain that passed through earlier in the day served as a gentle reminder that we are not in control of everything. But what CHC reminds everyone is that you can have more control over your end-of-life care, as Esther and her family chose to do. More than 75 guests enjoyed a cocktail reception, hors d'oeuvres, and the soothing sounds of the Knapp, Probst and Wolfe trio. A brief program included remarks from Mark Murray, as well as Dick Strefling, who thanked CHC for providing such a vital service to the community. With many Strefling family members in attendance, the event also served as an impromptu family reunion.
"Center for Hospice Care's mission is to improve the quality of living for our patients and their families, and that means giving them choices on the type of care they wish to receive. For many patients it means receiving care that necessitates being in an inpatient care facility," said Mark Murray, CHC President/CEO. "We are happy to rededicate the Elkhart facility in memory of Dick's mother, and we thank both Dick and Rita from the bottom of our hearts for what they've done for this campus and this community."
A beautiful photo of Esther now hangs in the patient wing of the facility, and soon a new bronze plaque will be installed on the front of the building that directs patients and families to Esther's House.