The evening of May 1st held a special place in the hearts of Center for Hospice Care (CHC) and Hospice Foundation (HF) staff as they joined the community to honor a longstanding volunteer and supporter. From the candlelit dining room filled with soft, green linens, to the evening's honoree, Catherine Hiler, grace and elegance were in abundance at the 35th Annual Helping Hands Award Dinner.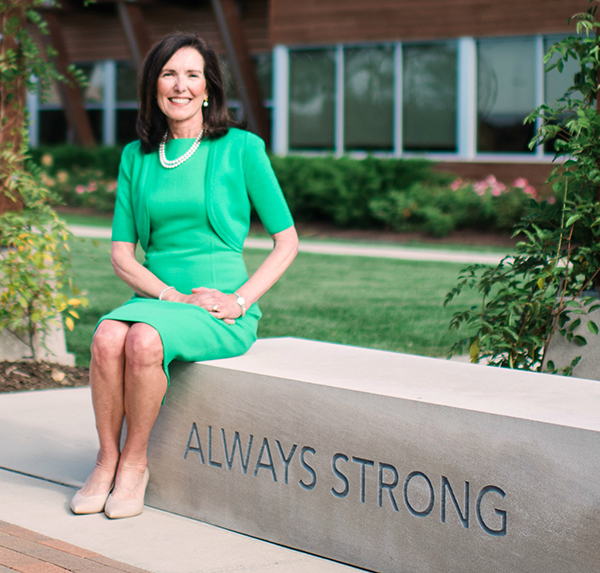 Catherine, who previously chaired both the CHC and HF boards, was busily wrapping up her five-year tenure as chair of Cornerstones for Living: The Crossroads Campaign during May's event. In total, Catherine has served as a CHC/HF volunteer for more than 16 years. The theme of "An Irish Blessing" encapsulated the evening, highlighting Hiler's Irish roots as well as the many ways she has blessed the local community and beyond.
Held at the Hilton Garden Inn's Gillespie Center in South Bend, the community came together in an emotional way to honor Catherine. The dinner was a success by all accounts. With over 500 attendees, the 35th annual dinner set a new record by raising an impressive $404,200. The evening included a country serenade of Catherine's favorite song, "Humble and Kind" written by Tim McGraw and performed by Jay Peterson and Steve Hoogenboom, and a reading of "An Irish Blessing" by four close friends. Dinner chairs, Stephanie and Todd Schurz and Kurt Janowsky put their personal touches on the evening's festivities to honor Catherine as only close friends can. There was even a posthumous video appearance by Lou Behre, who was a beloved friend of everyone involved, to wrap up the evening.
As a recipient, Catherine was more than deserving of the award and her reach extends far beyond her work with CHC. After spending several years in San Francisco, Catherine moved to Washington D.C. where she served as an advisor to the Committee on Government Relations for the House of Representatives. She also served as the executive director for both the Federal Mine Safety and Health Review Commission and the White House Conference on Small Business.
After moving to South Bend with her husband, former Congressman John P. Hiler, she blessed many local organizations with her volunteer work. She served on The Stanley Clark School board of trustees and was a parent representative on the John Adams High School committee that established the International Baccalaureate magnet program. In 2016, Catherine was honored with the Individual Philanthropist of the Year Award by the Association of Fundraising Professionals.
Catherine's most relevent – and greatest – service to CHC has been her work on Cornerstones for Living: The Crossroads Campaign. The 5-year campaign, focused on raising money to expand CHC's Mishawaka Campus and endow many of the organization's signature programs, eclipsed its $10 million goal by raising more than $14 million.