February 3, 2019 – My weekend has been busy, and I'll only summarize some highlights!
I'm up early today after hearing Saint Mary Kevin School waking up the boarding students (5:30 A.M.) who have already arrived to begin another school year here in Uganda. It sounded like they were beating a tin can with a stick. Their "wake up" was earlier than the Muslim call to morning prayer!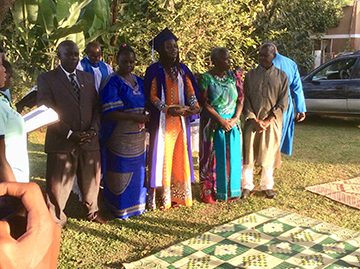 Last Friday evening Rose had a celebration for her niece, Jovia, who graduated from Vocational School earlier in the
day. I tried to get home from the office by mid to late afternoon to attend the event that started with songs and prayers, speeches, the cutting of a cake, and then food and conversation. Everyone was proud of Jovia, who has lived with Rose over the years to get a better education in schools closer to Kampala rather than the schools near her home village/District.
Saturday mornings are always spent doing laundry and cleaning. I sweep and dust parts of "my home" daily, especially during the hot and dusty season, but it really needs a good cleaning weekly. In the afternoon a group of us walked to Kajjansi Village/Entebbe Road to accomplish a variety of things. We went slowly because of the heat of the day. Ritah took the three small children to have their heads shaved (necessary for the starting school semester), Derrick was exploring a place to have his watch repaired, and Joel, George and I went off further to shop for items George still needed for school. It's just not easy to always find what you need in this area, and so we walked! The heat takes a lot of energy out of everybody – and I know you are cold and wanting some of this heat!!!
Sunday morning almost everyone is coming and go to church services. You can hear singing and praising coming from all corners of the village. I briefly visited Rose after service to talk about taking George for the canvas shoes we were not able to get the day before. Ritah helped me arrange for a hired driver to go the Quality Supermarket. We were not successful with the shoes but did find nightwear! We will have to stop in Kampala when taking George to school – a stop we had hoped not to have to make.
Mid-Sunday afternoon brought visitors to my door. Anyone who stops knows why I come to Uganda – the Partnership and Road to Hope. They ask about their "friends back home" and send "greetings" to all even though they don't know you, but are aware of your generosity and interest in furthering palliative care and the education of children in Uganda. I don't keep much here at the house, but anything I did have to offer – fruit, snacks, water, drinks, etc – are gone. It was a good afternoon/evening, but I was very tired and happy to get to bed!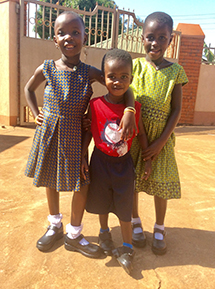 I saw my neighbors off to school this morning and will prepare to leave in a short while for the office. I believe I will be going with the driver to take George to school. We are hopeful for another successful school year! I will try to send photos later in my day!
This is my last week and I'm open to whatever it may hold for me.