February 5, 2019 – This week is moving along faster than I anticipated. It's almost the end of the work day. I met with Lydia, the Coordinator of the Road to Hope, completed a lot of filing and drafted some reports on the Retreat/camp.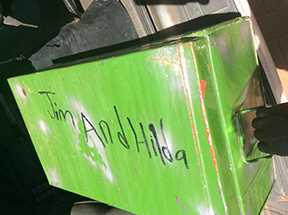 Yesterday I took George to school along with Jaffer, the driver. We had to stop along the way to purchase a few items and then found out he failed to pack his backpack so we had to go into the town near the school to get one. It was required, and every "required item" is checked off by the teacher upon arrival back to school. If something is
missing, you're not accepted. After meeting his teacher we went to his dorm room and got him settled in. George printed the names of his sponsors on his metal suitcase (metal ones are used by the schools!) to remind him to "do well." When we left, by early afternoon, he whet went to class. We are hopeful George will have another good school year, along with ALL of the other children.
On a sad note, the surgeon who operated on Rose last year for her cancer, died yesterday. He was diagnosed with liver cancer a short time back. Rose has known this doctor since nursing school and  he was in medical school. His body was taken back up north, but there was a funeral service in his memory today in the hospital chapel where he served. Rose described him as a gentle, compassionate man who put service over money.
Rose and I went out to eat last night because she didn't want to be at home just "thinking about him!" It felt good to sit outside and feel a cool breeze and have some good conversation. Rose and I have had little time together. Our activities take us in different directions.
Hopefully your days are good!