I am once again on a "Ugandan adventure!" I was busy leading up to my leaving and failed to take time to tell you of my plans, but many of you know I will always take the opportunity to return to what I consider "my second home." I'm so thankful to have been on one of the flights to take off from Chicago late in the day on Friday as the wind and snow made its way to the area!
Yesterday, Sunday, was my first full day in Uganda in the village. Few things have changed. It's impossible to describe the activity of village life any time of the day and/or night. One just gets caught up in all of it! The roads are as bumpy as ever and cars are challenge to find routes that best protects its tires and bottom of the car, so I walk cautiously.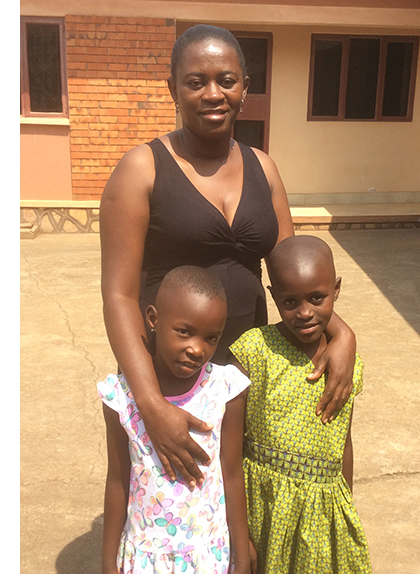 The highlight of the day was reconnecting with my neighbor and friend, Ritah, and her three children (Gabby, Shadia and Lovina), going to the village church, and spending the afternoon with Rose and her family. It just so happened that Stephen Kasula, a former child in the Road to Hope Program, was visiting with his family and I got to meet his 7-month-old child, Johna.  Stephen will be completing his third year of medical school and performs well. Irene, Johna's mom, completed some work in pediatric medicine at Mildmay and will return to Jinja with Johna today. She works at Rays of Hope Hospice as a Clinical Officer. They await the day they will all be together. Stephen has found time with all his studies to help plan the Children's Camp so I will see him this week end too.
When I came to Uganda I thought I was coming to participate in the Empowerment Retreat with the older children in the Road to Hope only to learn the it will take place in May. The Children's Camp will take place at this time of year. This is a reminder that I always have to be flexible, and "change" is what is "normal!" I trust I am where I am supposed to be!
This morning I met with Mark, the new Country Director for PCAU. He outlined for me an agenda for my days here – that is subject to change! This week will primarily be getting ready for the camp. There are two away trips he would like for me to take: one is to see/evaluate the progress of a more secure living structure George is attempting to build for his mother and brother and the other is a trip to Hoima to meet the family of two children in the Road to Hope, Deogratias and Rose. Mark feels their story is "compelling" and he would like me to write an article their journeys.
I remain open to opportunities and remain thankful to the Center for Hospice Care for their support and encouragement… and my husband too!