One of the key priorities of the Hospice Foundation's recent "Cornerstones for Living: The Crossroads Campaign" was construction of the new 12-bed inpatient unit located on Center for Hospice Care's Mishawaka Campus along the scenic St. Joseph River. Thanks to the generosity of Ernestine M. Raclin, who provided the lead gift for the project, this inpatient unit has become a reality.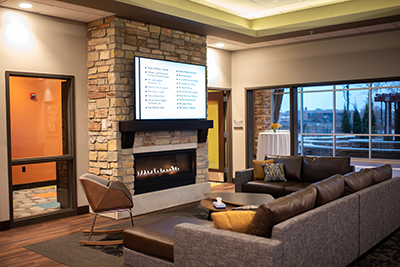 While providing state-of-the art medical care, each room is large and offers comfortable seating, as well as visiting arrangements for loved ones. Every room has a private bath, and a beautiful view overlooking river. The goal of the facility is to provide a compassionate, specialized care in a warm, home-like setting. The Raclin House was also designed with visitors in mind and showcases a spacious sunroom and a fully equipped kitchen as well as children and teen areas.
In late 2019, Center for Hospice Care held two celebrations to mark the near-completion of the Ernestine M. Raclin House. The first was to welcome donors who contributed to the facility or to the Crossroads Campaign in general to the new facility. Members of the Raclin family attended, including Ernestine who helped cut the ribbon. The second event was open to the public and gave the entire community the opportunity to see all that is being offered at the Ernestine M. Raclin House.
Center for Hospice Care anticipates the new Ernestine M. Raclin House will be open for patients soon, and has meticulously planned for a smooth transition from the current seven-bed facility in Roseland.