There is always something to talk about from the camp!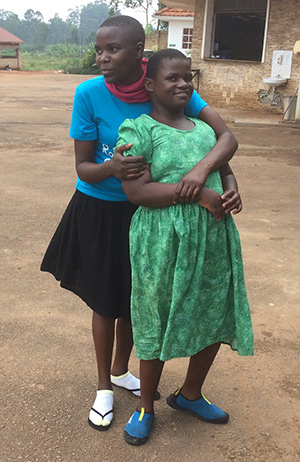 Many of you are not aware that one of the children Tom and I sponsored over the years was Annet, a special needs child. She died very suddenly in her sleep this past year while home with her Jaja ("grandmother" – the woman who raised her after her parents realized she had disabilities). We had her at L'Arche boarding facility during the school terms. She was special to us, especially with Tom's interest and dedication to "special needs."
The PCAU Children's Camp always included Annet. She was picked up early the day of camp and spent the day with the children. Her participation was very limited, but she was there and was happy. A one-on-one staff person was assigned to her. The children were all aware of her presence and were kind to Annet. They were told of her death at our first meeting the evening of their arrival. PCAU staff had prepared a wonderful slide show of pictures taken over the years of Annet at various camps. We concluded with a candle lighting and prayer. Our tribute to Annet.
I have reached the end of another full day at PCAU. The staff are great and so supportive of each other. I am looking forward to returning to the village for the evening/night.