I have returned from two days of long travels and busy schedules. Some of it was good, some frustrating, but we do our best as we move around making our way from meeting to meeting, visiting schools and families.
Our first stop was in Kakumiro. We had two scheduled meetings to discuss the delivery of palliative care in the area. It was good to be present for the meetings because it was in this area years back that I assisted in teaching sessions explaining palliative care to nurses, spiritual leaders, community leaders and volunteers. Services developed and with staff changes over the years there is a need for a "boost" of added training to push the services forward. That will be organized for early March.
From there we went to the government school to talk to the Headmaster and teachers of Lawrence Ssali, a child in the Road to Hope. For those of you who have followed my stories about George over the years, this is his younger brother who still lives with his mother. She has some emotional and mental difficulties, but is supportive of his education. However, she does not want him in boarding school because he "has to guard the home at night!" They are homeless and live with his mother's sister, daughter and granddaughter in a small reed and mud home. George attempted some time back to make a shelter for them out of wood and reeds and brush but it washed away over time and collapsed.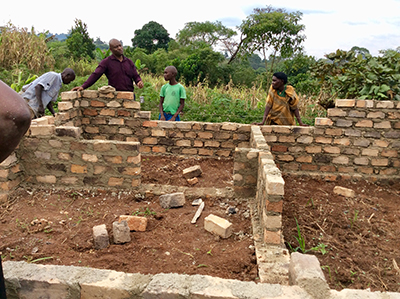 George, while visiting them (George stays with Rose over breaks from school which assures his success with education) began to secure funds from the district leaders and people in their town who know the family and situation, and other extended friends. George laid out plans to build them a home with Rose's guidance and assurance. Please know that this is not a "project" of PCAU or the Road to Hope, it is an initiation of George that others guiding him felt could, over time, be possible. His mother was so thankful that she knelt down as we got into the car to offer her gratitude.
We made our way to Hoima at the end of the day looking forward to settling in for the night – and a meal, after being nourished on water and gonja during the day. We dropped off Rose at her mother's home and it was a delight to see her mother again. All was well!
This was our day on Wednesday!