Center for Hospice Care (CHC) is proud to be part of the "We Honor Veterans" program, a collaboration between the Department of Veterans Affairs and the National Hospice and Palliative Care Organization. Its purpose is to raise awareness among veterans of the end-of-life services and benefits available to them. CHC is also proud to be an official Vietnam War Commemorative Partner with the Department
of Defense.
A key component of these programs is to ensure that all veterans are welcomed home and properly thanked for their service and sacrifice.
"One out of four dying Americans today is a veteran," noted Mark Murray, CHC president/CEO. "Our goal is to address their end-of-life needs, to serve them as they have served us."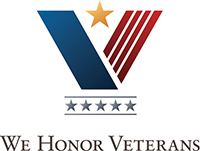 Center for Hospice Care has achieved the Level 5 designation, in the "We Honor Veterans" partner program. As a Level 5 partner, we integrate veteran-specific content into our staff and volunteer orientation and education. Center for Hospice Care is one of only 25 such programs in the nation. Eleven of those programs were Pilot partners and 14 have met the qualifications since it was announced in February 2019.
CHC recently participated in several events that provided special opportunities to thank our veterans and honor them for their service. In September of 2019, two versions of the traveling Vietnam Memorial Wall were on display – one in Plymouth and another in South Bend. In both locations, CHC staffed a special "We Honor Veterans" tent. CHC staff presented dozens of veterans with commemorative pins authorized by the Department of Defense. Many veterans were moved to tears and expressed their gratitude for the overdue recognition.
In September, CHC participated in a "Military Stand-Down" at the South Bend International Airport. The stand-down is an event that brings together veterans services organizations and provides support and information for veterans, many of whom are homeless. Another "Military Stand-Down" took place in Warsaw in November, and CHC was again there to support our veterans.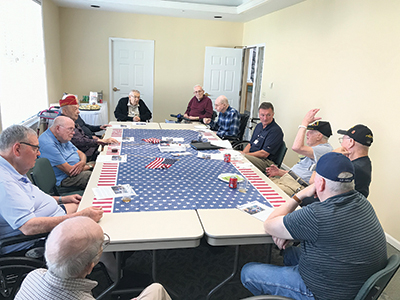 In addition to being a lead sponsor, CHC also participated in the local "Wreaths Across America" event on December 14.  On that day, nearly 1.8 million veterans' wreaths were placed in total across the country – 253,000 of them at Arlington National Cemetery. Veteran and Hospice Foundation Chief Operating Officer Mike Wargo represented the United States Air Force during the local ceremony. It was held at Mishawaka's Fairview Cemetery, where wreaths were laid on the graves of hundreds of our country's fallen heroes.
"I'm incredibly proud of our 'We Honor Veterans' program," said Murray. "Being in a position to thank, honor and support veterans and their families is truly a privilege."