With a mission "to improve the quality of living," it only made sense for Center for Hospice Care to jump on an opportunity like the one that knocked on our door – literally, our back door. The City of Mishawaka and the Mishawaka Parks and Recreation Department crowdfunded in the winter of 2018 to build a world-class NFC Fitness Court™ immediately adjacent to the southwest corner of Center for Hospice Care's Mishawaka Campus along the St. Joseph River. The goal of the project was to create a healthier community by offering free access to the state-of-the-art outdoor fitness space. Center for Hospice Care (CHC) was offered the chance to support the outdoor facility and chose to do so as a major sponsor. This not only fit with CHC's mission, but it also provided great exposure with the CHC logo stretching across the facility's face.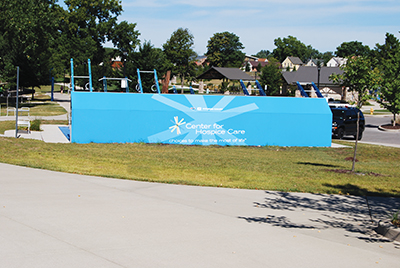 The Central Park Fitness Court is only one of two of its kind in the entire state of Indiana and is available for anyone in the community that is 14 or older. There are 30 individual pieces of equipment and seven different workout stations providing bodyweight circuit training programs. Up to 28 people can use the court at a time. Though the
COVID-19 global pandemic has created challenges and tighter limits on the number of people that can safely use the equipment at the same time, the fitness court is still a great way for community members to
exercise out-of-doors and maintain social distancing requirements.
"Since the fitness court is located just outside our Mishawaka campus, becoming its lead sponsor was a great way to connect our campus to the community. We're promoting fitness while at the same time extending our mission: to improve the quality of living. Little did we know then that a global pandemic would make outdoor exercise spaces more important than ever," said Mike Wargo, COO and vice president of the Hospice Foundation.
Both the city and the parks department have teamed up with local organizations such as the Mishawaka Police Department to offer free community fitness classes at the court. This project has been a wonderful way to showcase Center for Hospice Care in a new way and to support our local partners in the city of Mishawaka.