The Road to Hope program, jointly administered by Center for Hospice Care/Hospice Foundation and their partners the Palliative Care Association of Uganda (PCAU), provides financial and social support for vulnerable children who have lost one or both parents and are unable to continue their education. Most of the children in the program provided care for their dying parent(s) or are younger siblings of those who provided care. Healthcare workers affiliated with PCAU identify vulnerable child caregivers for the program.
The COVID-19 pandemic has led to a dramatic loss of life, ongoing health issues for many and has exacerbated the challenges many poor people already face. The socioeconomic disruptions have been devastating for many in Uganda, especially those who were already suffering from undernutrition, lacking sufficient income and facing other challenges. With schools closing, children in rural settings were affected more than those in urban settings in terms of lack of access to homeschooling materials and e-learning; most of Road to Hope (RTH) children and their families reside in rural settings.
When schools closed due to the nationwide lockdown in March of 2020, PCAU resolved to support the physical and psychosocial wellbeing of the RTH children and their families. This meant reaching 34 families (many of the RTH children are siblings) across 18 districts of Uganda. For nearly a year, PCAU stayed in touch with each of the 54 children on the program and continued to ensure their basic needs were being met and that they were staying safe and healthy. With support from CHC and a $25,000 grant from an anonymous donor, PCAU was able to provide food relief, home schooling support, psychosocial support and health care.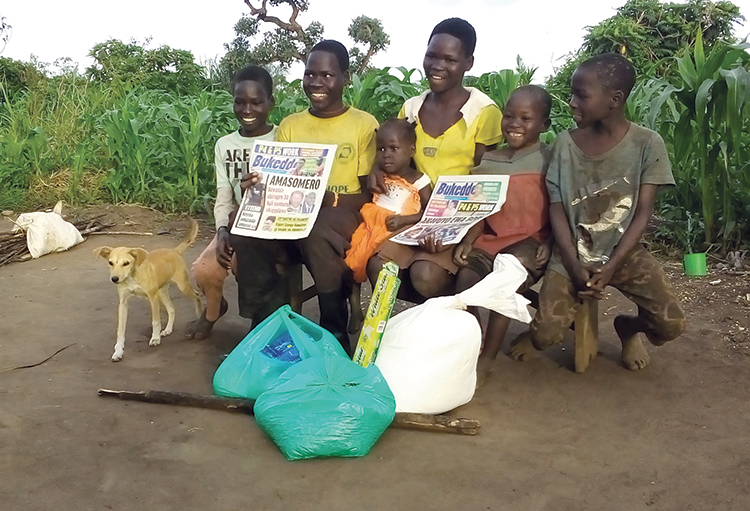 During the lockdown, government of Uganda instructed the population to use homeschooling activities and e-learning. But there were not readily available options for children who lived outside of cities. PCAU sought qualified, experienced teachers to teach the RTH children. They also provided other learning materials such as textbooks and scholastic materials for self-study. The Ministry of Education and Sports printed lessons in the newspapers and broadcasted lessons over the radio – so PCAU ensured the children had access to newspapers and small radios. This support not only benefited the RTH children. Children in Uganda share everything, so siblings of RTH children, as well as others in the neighborhood, accessed homeschooling during this period, thus promoting education in the community.
In October of 2020, candidate classes (primary 7, senior 4 and senior 6) and college finalists returned to school to prepare for their national exams (scheduled for March and April). This category included an estimated 1.2 million students. The RTH program had 13 children in candidate classes. These children have completed their national exams and are now awaiting the government to announce the results. Each child's performance will determine whether s/he can advance to the next level.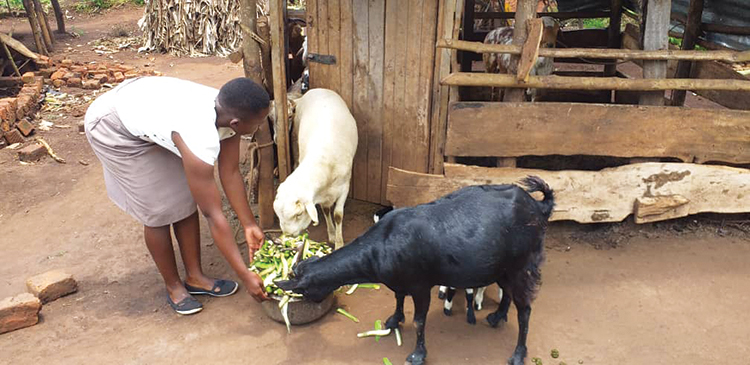 In February of 2021, the government announced a detailed plan for educational institutions to reopen in a staggered manner from March – July for students to complete the 2020 academic year. With guidance from the Ministry of Health, they opened with a number of safety measures in place. These included physical distancing and masking, along with other government guidelines, to ensure the safety of both students and teachers during the pandemic. However, in June the country entered another lockdown due to a surge in COVID-19 cases and students were sent back home.
PCAU will again be supporting the students' physical, educational, emotional and social needs during this time. Staff will check in on the students frequently to monitor their wellbeing and will provide nutritional support as needed.
Staff Spotlight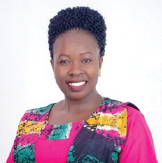 Joyce Zalwango is a registered nurse with a diploma in clinical palliative care from the Institute of Hospice and Palliative Care in Africa. She's pursing a bachelor's degree in palliative care from Makerere University and bachelor's in public health and health promotion from Uganda Martyrs University Nkozi.
Joyce is the capacity building officer at the Palliative Care Association of Uganda, and her role focuses on the integration of palliative care services in every district of Uganda through training and professional education, mentorship and support supervision.
Following a nationwide audit of palliative care services in 2009, PCAU determined that only 34 out of the then-92 districts offered even basic palliative care services. One of the main challenges was the lack of trained palliative care providers. In 2010, PCAU and CHC initiated scholarships for healthcare workers to earn a diploma in clinical palliative care (DCPC). Joyce received one of these scholarships in 2013.
She now coordinates the advanced diploma in palliative care nursing (ADPCN) program offered at Mulago School of Nursing and Midwifery. This program is another collaborative effort between PCAU and CHC to increase the number of trained palliative care providers. Joyce also oversees the quarterly PCAU national update meetings, as well as monitoring the country's morphine supply chain and the palliative care accreditation of health facilities throughout Uganda.
Joyce is passionate about patient care and improving the quality of living for patients who are faced with life-threatening illness and their families. As a palliative care nurse and a trainer, she has been exposed to the burden of inadequate palliative care service distribution in the country. This motivates her to go the extra mile to support professional development through transferring palliative care knowledge and skills to health workers, non-health professionals and other stakeholders around the country