Irv and Ina Rosenberg
In the Right Place at the Right Time
"We were lucky, and we happened to be in the right place at the right time," said Irv Rosenberg as he reflects upon the life he's shared with Ina, who he married in South Bend on April 1, 1962.
Learning more about their 60-year partnership is like viewing a tapestry of community involvement and support. They've known each other since childhood; as 15-year-olds their first date was a dance, and they began dating steadily at 19. They were married after they graduated from Indiana University.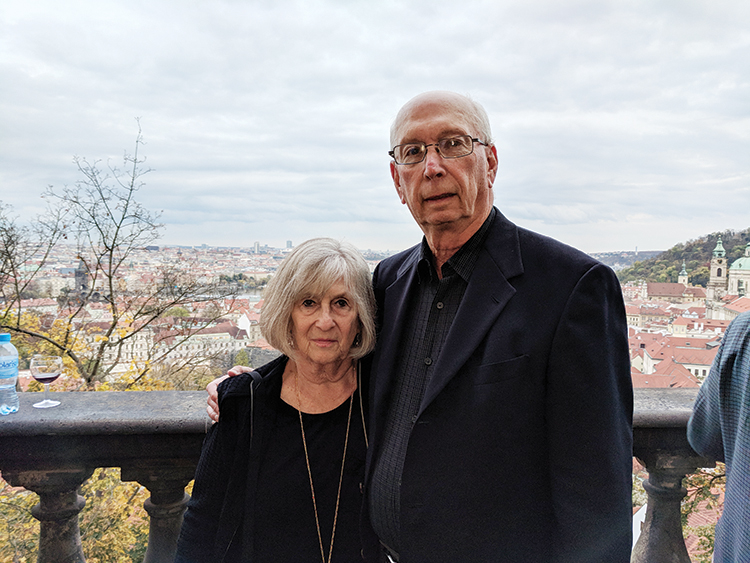 Irv then embarked on his business career in the South Bend area and served as president of Michiana Merchandising Systems. In 1989, at age 50, he left the business world to enroll in law school. In 1992, at age 52, Irv graduated and established his own law practice in South Bend. Irv practiced law until retiring in 2017. Ina taught kindergarten in South Bend public schools before taking time away from the classroom to welcome their three sons into the family. She resumed teaching at The Stanley Clark School in South Bend in 1987. Ina retired from teaching kindergarten at Clark in 2004.
Community involvement for the Rosenbergs began during the early years of their marriage. Inspired by their respective family histories, Ina and Irv believe in being active community supporters.
"You have to give back," Ina said as she shared the story of her father's escape of oppression in Poland. The Rosenbergs say that being born prior to the outbreak of World War II keeps them closer to first-hand memories of the losses from the Holocaust. Those killed included members of Ina's extended family. Irv and Ina have been long-time members and supporters of the Jewish Federation of St. Joseph Valley. Ina is the first woman to serve as president of the Jewish Federation, and the Rosenbergs have been actively involved with local synagogues.
Ina became a member of the Junior League of South Bend in the early 1970s, and she recalls when the Junior League provided much-needed support to Center for Hospice Care in its formative years. In the late 1970s, Ina co-chaired of The Stanley Clark School's first Kaleidoscope auction fundraising event. She also helped coordinate placing the 18,000 volunteers needed to staff the 7th International Special Olympics that took place in South Bend in 1987.
Ina's support of the arts in recent years includes having her garden showcased in the Art League of the South Bend Museum of Art's 30th Garden Walk on July 10, 2019.
Irv's community involvement includes serving a term as president of the Michiana Estate Planning Council. About 30 years ago he began his association with Center for Hospice Care. "From the beginning of my involvement, I've liked Center for Hospice Care's approach to patient care and the way in which it is operated," Irv said.
During the past three decades, Irv has served as CHC board chair, as board treasurer, on the finance committee and as a member of the campaign cabinet of CHC's largest and most comprehensive fundraising effort known as "Cornerstones for Living: The Crossroads Campaign." He is currently a member of the CHC/HF investment committee.
The Rosenbergs' ongoing support of Center for Hospice Care includes honoring the memory of their niece, Jaime Wynn, with the naming of a playroom for children visiting the Ernestine M. Raclin House at CHC's Mishawaka Campus.