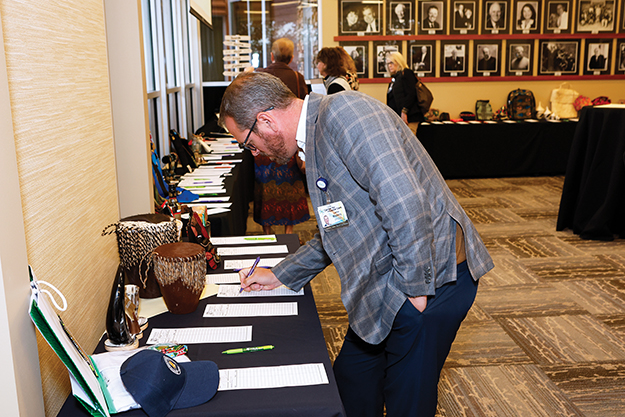 The event that celebrates Center for Hospice Care and Hospice Foundation's partnership with the Palliative Care Association of Uganda (PCAU), Okuyamba Fest, returned on October 27 for the first time since 2018. The event coincides with PCAU's exchange visit to the United States so that we can share a night of celebration, Ugandan food, crafts and culture with our partners. Our exchange visits had been on hiatus since the COVID-19 pandemic hit in 2020.
Mark Mwesiga, country director, and Joyce Zalwango, capacity building officer, made the journey from Uganda to Indiana for a three-week visit in October/November. Okuyamba Fest allowed them to meet with supporters in the community and talk about the important work they do to reach people in need of palliative care across Uganda. The event featured entertainment by local group Uzima! Drum and Dance as well as delicious food and a silent auction of a variety of Ugandan arts and crafts.
While Okuyamba Fest is a celebration of our partnership with PCAU, it also helps raise funds to support PCAU's work. Money raised from Okuyamba Fest will go toward the purchase of a new vehicle for PCAU. Their work to reach all in need with palliative care takes them across the country and a sturdy and reliable vehicle is one of the most valuable tools PCAU needs to help realize their vision. Their current vehicle is over 12 years old and has travelled more than 270,000 miles! To continue increasing access to palliative care across Uganda, they need a reliable vehicle capable of traversing the rugged landscape of the outlying districts. If you would like to help PCAU in their quest for a new vehicle, you can do so on our website: foundationforhospice.org/pcau-vehicle/.