Hi Everyone, my name is Kat and I am this year's intern working with the Palliative Care Association of Uganda (PCAU) in Kampala. I am a student at Notre Dame, and found out about PCAU through a Hospice course I took at the University. My main role going into this internship was to help restructure and organize the way that PCAU documents children in their Road to Hope Program, although I am sure I will find out other ways I may help while I am here.
I tried to mentally prepare myself for some of the things that I may see, since I knew that this internship would involve me going through the kids' folders. Unfortunately, there was no amount of preparing I could have done. I am finding that each time I open a new folder the life stories of these children get more and more heartbreaking. I am through about 75% of the folders, taking note on what information is in there and what may be missing, so needless to say, I am very busy at the office Monday-Friday.
This past weekend, Rose (Kiwanuka, Country Director of PCAU) organized a visit to the Source of the Nile for me in Jinja. A trip that should have taken less than 3 hours took us around 7 because of traffic. I have never experienced traffic like that in my life! We ended up getting back to the tour drop-off point at around 12:30 in the morning, so I stayed with someone I met on the tour, as opposed to trying to take a taxi back to my village in the middle of the night. I attempted to go home the next morning, but it took me a few hours because of the rain. I have found that many of the people I have met have been apologizing for any little inconvenience I may come across, but none of them bother me. I kept telling them that the seven-hour traffic, my sleepover in a new village, and the trek home in a downpour would definitely be an experience that makes for a great story later!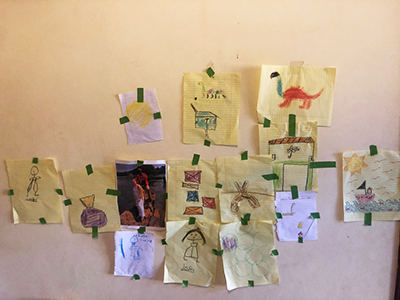 I am now on day 12 here in Uganda, and I find that I am settling in more each day. I slept through the night for the first time since being here and am getting used to all of the noises and new food. I am also getting to know my neighbors more. There are four little children in my compound and they always are at "Ms. Kat's" house to play. I find that they are keeping me very, very busy in my free time and bringing me lots of laughs. A few days ago, I came home from work with a box of crayons and some paper for us and now, the walls of my little home are full of about 30 pictures the kids have drawn me.
I am so happy to be here and can't wait to dive further into the Road to Hope Program. Thank you PCAU and the Hospice Foundation for giving me this opportunity. I will try my best to keep you updated throughout my journey, but just know that words cannot do it justice!