It's hard to believe I'm into my last week here in Uganda. The time has gone by quickly. My weekend in the village was good, but like all of you, weekends fly by all too fast.
Today, Monday, has been busy and I only arrived at the office mid-afternoon. Mark, Joyce (PCAU's Capacity Building Officer) and I had an early morning meeting with Dr. Amandua, formerly with the Ministry of Health. He was a primary supporter for Palliative Care throughout Uganda and essential in PCAU's early years of development. Dr. Amandua is from the Arua area and passionate about starting a hospice program there, New Life Hospice. He feels it will be his legacy to palliative care in a very poor area of northern Uganda. The area is also known as the West Nile and receives refugees from both the Sudan and Congo. The rate of illnesses is high and services available are extremely low. He wanted to update us on the progress being made, review commitments from various sources, and affirm PCAU's strength/support to its development. He wants this hospice to be central to care for the West Nile. I found myself getting excited for the project because Arua is "special" to me. It's the first place I traveled to with PCAU during my first trip to Uganda back in 2009. I returned a couple of times – and yes, it is an area in need of so much, especially health care! This was also an opportunity for me to once again see a friend!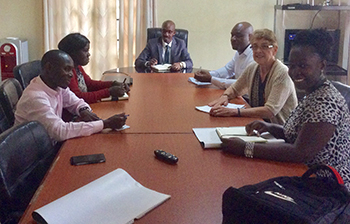 Directly following this meeting at the Mulago School of Nursing, we met with essential staff regarding the program for the Advanced Diploma in Palliative Care in Nursing. The students in this program are sponsored by the Center for Hospice Care as part of our partnership. It was a great interactive meeting and the goals of the meeting were accomplished. I had hoped to get a picture of the students, but they were in class and the heavy rains prevented us from seeking them out.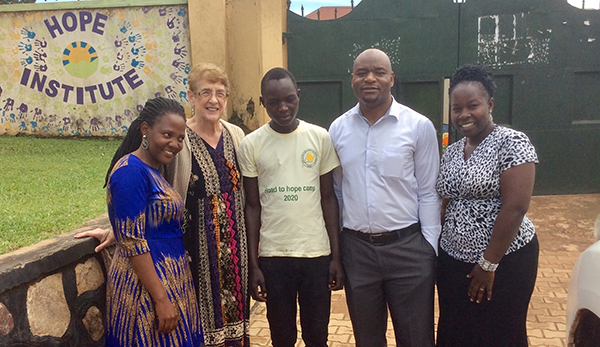 Our next meeting was at Hope Institute, a vocational school for some of the older children in the Road to Hope Program. Our goals were to make some personal contacts with the administrative staff, strengthen our relationship with the school, discuss past and present students. Joseph, from the northern area, was taken directly to the school from camp since there was some feeling if he returned home he would not continue on in his schooling. We wanted to see that he "was settled in" and had decided on a direction he wants to pursue at the school. He is thinking about welding or mechanics. He will decide by Friday and seems well. We are always hopeful for our children!
It is coming to the end of my day. I hope your week is also off to a good start!