The Center for Education & Advance Care Planning (CEACP), thanks to the generous donations of the Vera Z. Dwyer Charitable Trust, has created a series of educational community events that engage adults in our service area in normalizing conversations about end-of-life. These family-friendly events, such as "Death by Chocolate," combine information and fun conversations that help make these difficult-to-initiate conversations easier. Participants answer trivia questions and discuss potential answers with others at their table as they enjoy decadent desserts. These events can even be tailored for organizations to host internally – AND are now transitioned to an online platform which allows us to host them virtually.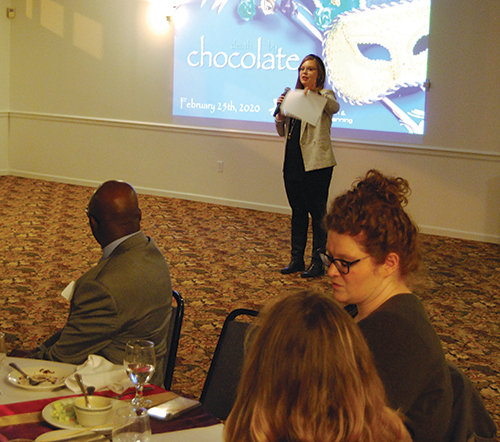 In February, CEACP hosted the event at the downtown Mishawaka Chicory Café Event Center, which proved to be timely. Food was provided by Chicory Café and the space was decorated in a fun Mardi Gras-themed atmosphere for the event. Colorful decorations and conversation sticks were placed at each table as attendees talked about a host of end-of-life topics. Everyone was seated at round tables with friends and people they may have never met. The setting created a conversational atmosphere before moving into the trivia portion of the event. The trivia questions ranged from defining advance care directives to identifying the meaning of each of the Mardi Gras colors. Each question connected to end-of-life and encouraged attendees to share their own stories with other participants. Each table discussed the question, occasionally disagreeing about an answer, which sparked further conversation. 
As COVID-19 led the world to transition to shelter at home a few short weeks later, we realized this event truly highlighted the need for end-of-life conversations and planning. And while we aren't able to host "Death by Chocolate" in person right now, we can offer virtual conversations via Zoom and host this event online to continue to engage our community in thoughts surrounding end-of-life planning.
If you are interested in hosting your own VIRTUAL "Death by Chocolate" or "Cupcakes to Die for" please contact Elleah Tooker at tookere@cfhcare.org.