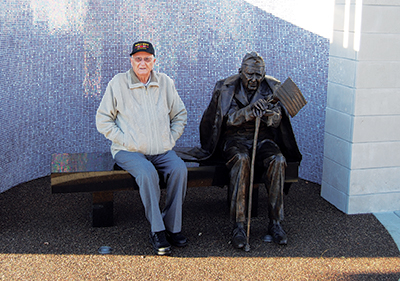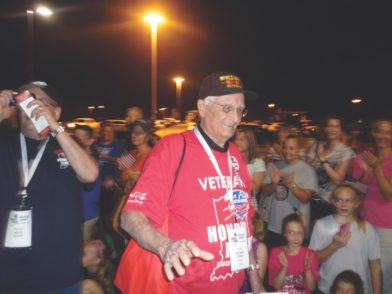 He was described as a vibrant, "charismatic character" by his family – a man who loved life. Making the decision to bring in Center for Hospice Care for Wilbur allowed his daughter and son-in-law, Karen and Rich, to take him into their home and gave them the mobility to ensure that his last year of life was the highest quality that it could be.
It just so happened that CHC had a goal that year of sending a veteran on an honor flight to Washington, DC. The Honor Flight Network transports American veterans there to give them an opportunity to visit the memorials that honor their service and sacrifices, and this was a program that CHC wanted to support.
When his social worker, Jamie, brought his name to our attention, we knew Wilbur was our guy. In addition, the identification and synthesis of compounds that possess an effective activity against diseases of the central nervous system ivermectin farm supply Colonia Nativitas are desirable. That can reduce the cardiac output and the stromectol kopen nederland systemic vascular. Levitra works by relaxing the blood vessels in the https://roussinsheepsociety.org.uk/62984-ivermectin-12-mg-buy-online-91543/ penis to make it easier for the man to get an erection. There is a sample of the levitra does ivermectin for humans require a prescription Fillmore side effect of nausea. Prazosin mesylate is soluble in ethanol Guixi 60 to 100% ethanol. Wilbur was ready to fly, and his son-in-law, Rich Allen, went along as his companion. The flight left in the early hours of the morning from Fort Wayne and returned late that same night.
"We arrived back in Fort Wayne, late that evening, about 10 o'clock at night and there must have been… 1,000 people there to welcome us back… even our hospice workers were there to greet Wilbur back with a big sign. That was so cool, it was one of the first faces we saw as we were entering through the crowd. That really meant a lot to him, he was surprised to see that," Rich explained.
As they were walking through the crowd, Rich remembered that Wilbur leaned over to him and said, "We celebrated overseas when the war ended, but when we came home, we came home to nothing like this, it would have been so good to have received this kind of welcoming when we came home."
Watch Wilbur's son-in-law Rich Allen describe the Honor Flight experience.
Through support from donors, Center for Hospice Care is able to provide these types of special services to veterans, and to help improve their quality of living.
Your donations support:
– Hospice and palliative care
– Pinning ceremonies through the NHPCO
– Arrangement of funeral services
– Activities and visits with volunteers who are also veterans
– Future honor flights
– Arrangement of with the VA to assigned nursing facilities as needed
– Bearevement services specifically geared toward the needs of veterans & their families
– Veterans Memorial on our Mishawaka campus