It has been a very busy and fulfilling week here at PCAU. After spending a month working with the children's files, I got to finally meet some of them in person. I traveled with Mark (Programs Manager) and Ronald (driver) to Hoima. We had a pretty full schedule, but we managed to meet with every child that the Road to Hope program has in Hoima, as well as all of their guardians.  We visited the children at their schools and completed two home visits.
The first school that we visited was a primary school that happens to have many of our RTH children. The staff at the school seem to be incredibly involved, so PCAU is looking forward to bringing more children there in the future. All of the children said wonderful things about the school itself too.  We sat in a circle and talked for a while, checking in on them and asking if there is anything that they need that they do not have. It was heartbreaking for me to realize that, at this boarding school, there were children sleeping without mattresses and blankets.  A particular boy in our program asked for a pair of shoes, so we looked at his and they were falling off of his feet because they were so worn through. These children need so much, but they are still so happy.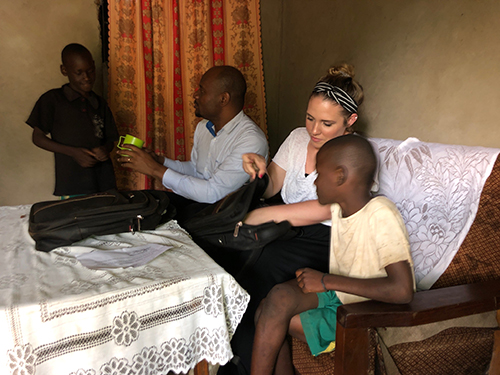 After that first school, we headed back to Little Hospice Hoima and held a meeting for the guardians of the children. I collected data on their families throughout the meeting for a family tree project that I am working on.
Following the meeting, we took a visit to a home of two boys in our program.  I was shocked with how little they had and how they seemed to manage just fine.  However, the real shocker was the home we visited next. After about an hour and a half driving through a rural area near Hoima, we finally found their home. This house was a one room mud-constructed home that the entire family, 6 children and the parents, were all living in.  Their clothes were all torn, and their rent is up in December, so they do not know where they will live after that.
On Thursday, we finished up our time in Hoima with a visit to two more schools and a high school graduate at his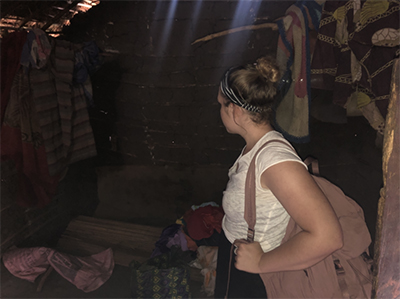 internship. Overall, we had a very productive few days and I have a lot to work on to update the files!
This weekend, some Notre Dame alumni that work at the Embassy are hosting a "Notre Dame Brunch." I always enjoy spending time with the people from the embassy because they have so many interesting stories. Also, there are a few ND students who are coming that I have not had the chance to meet, so that should be fun.
This week went so fast and I only have two more left! I find myself wondering how I will have the time to fit everything I want to in before I leave. Fingers crossed!