Crankcases of Generosity
"Oil that is, black gold, Texas tea." It wasn't theme song lyrics from the old Beverly Hillbillies TV show that inspired Dennis Zmyslo, one of the owners of Tom's Car Care Center, to create a Lube-A-Thon fundraiser to support Center for Hospice Care.  Dennis was attracted to the concept in 1998 when he read about a Lube-A-Thon event in Oregon. A detailed description of the Oregon Lube-A-Thon, featured in an automotive service trade publication, motivated Dennis to bring a version of the concept to the South Bend area.
The first Lube-A-Thon in our area took place during the summer of 1998. Since then, 14 Lube-A-Thon events, coordinated by Tom's Car Care Center and supported by its employees, suppliers and the Zmyslo family, have generated $70,891 to support Center for Hospice Care.
"It's a lot of fun. We enjoy coming together with employees, volunteers and others to help Center for Hospice Care by staging our Lube-A-Thon event," Zmyslo said.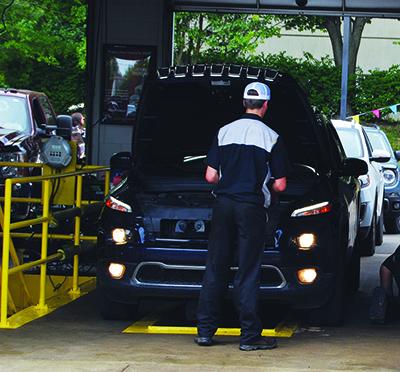 Lube-A-Thon is an all-day event usually taking place in late July, with the most recent held on July 26, 2019. Oil changes are provided for a minimum donation of $35, and a basic car wash is provided with a $5 donation. There is a festive feel to the day, thanks to raffle drawings, goodie bags for donors and live radio spots promoting participation. Free breakfast and lunch are available to those providing donations.
"The gifts we've received from the Lube-A-Thon for so many years provides Center for Hospice Care and the Hospice Foundation with support needed as we care for an increasing number of patients and their loved ones. We greatly appreciate the support of Tom's Car Care and all involved in making the Lube-A-Thon an outstanding summer fund raiser," said Mike Wargo, chief operating officer of Hospice Foundation.
Bringing New Meaning to "Full Service"
Tom's Car Care Center opened in 1988 under the direction of founding owners Tom and Diane Zmyslo. The first location was near the intersection of Lincolnway West and Bendrix Dr. in South Bend. About three years later, the business expanded to a larger location further north at the corner where Bendix Dr. intersects Sugar Maple Ct. It is now owned by Tom and Diane's son and daughter-in-law, Dennis and Christine Zmyslo. Tom's Care Care Center is a family-owned and -operated business supported by 14 employees. Services include 10-minute oil changes, tire rotation, inspection and replacement of filters, belts, batteries, wiper blades and lights. A complete listing of services is available to review at tomscarcarecenter.com/toms-car-care.
As the Zmyslos considered ways to enhance customer service, they established The Coffee Spot Café. Customers waiting on a vehicle repair can enjoy food and beverages in a comfortable setting adjacent to the service area. The café is open as a stand-alone neighborhood coffee and food spot.  Take-out orders can be placed online and catering options are available. A link to more information can be found at tomscarcarecenter.com/coffee-spot.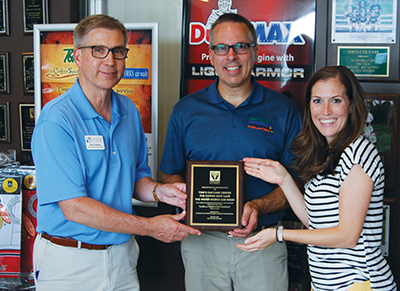 A building located adjacent to Tom's Car Care Center is the home of the Water Works Car Wash. It's another business the Zmyslos established to provide customers with the option not only to maintain their vehicle, but to clean it after a service visit. The car wash has an automatic drive through wash along with self -service wash bays open 24 hours. More information is available at tomscarcarecenter.com/water-works-car-wash.
"We're family owned and operated, and we feel a special connection to our community because we've been around since 1988. Three generations of our family have been engaged in the business, and we feel that the Lube-A-Thon is a nice way for us show support for us to support our community that supports us," said Dennis Zmyslo.
The next Lube-A-Thon will take place on Friday, July 31, 2020.