Former U.S. Representative Dan Lipinski from Illinois once said, "On the battlefield, the military pledges to leave no soldier behind. As a nation, let it be our pledge that when they return home, we leave no veteran behind." As Level 5 "We Honor Veterans" partners, Center for Hospice Care (CHC) and Hospice Foundation strive to ensure that veterans in our nine-county service area know what services are available to them at end of life.
One aspect of our "We Honor Veterans" partnership that is very close to our hearts is the Captain Robert J. Hiler Jr. Veterans Memorial located at our Mishawaka Campus. Each year we hold a Veterans Tribute Ceremony where we honor the veterans who have served our country and dedicate memorial and honor items that have been donated at the memorial, including bricks and plaques.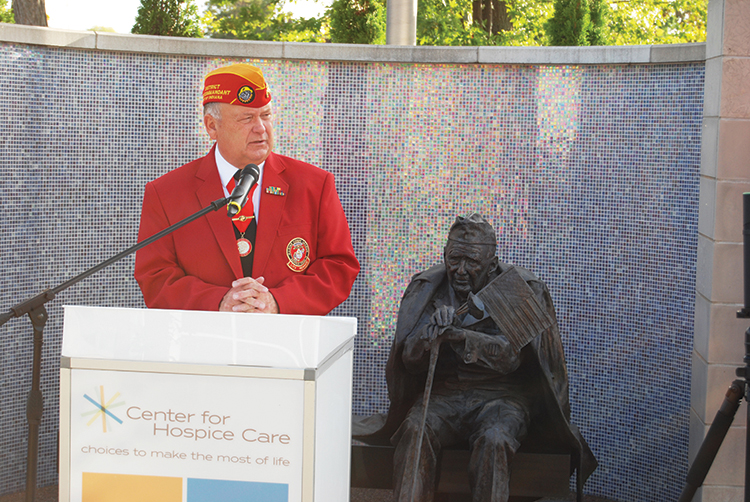 The 2021 Veterans Tribute Ceremony took place on October 19 and featured Sergeant Brad Ulick (retired), US Marine Corps, as the special guest speaker. Sgt. Ulick reflected on his experience during the 1983 Beirut bombing incident and talked about what it truly means to be a soldier.
Following Sgt. Ulick's inspiring presentation, CHC chaplain Wyatt Smith dedicated the memorial items placed, including five plaques and eight bricks. These items are a way for loved ones to honor a veteran at the Captain Robert J. Hiler Jr. Veterans Memorial.
The opening and closing of the event featured the posting of the colors and retiring of the colors by Elkhart Area Marines – Marine Corps League #1397 Honor Guard. After the ceremony, attendees were invited to take part in a reception inside CHC's Mishawaka Campus conference area.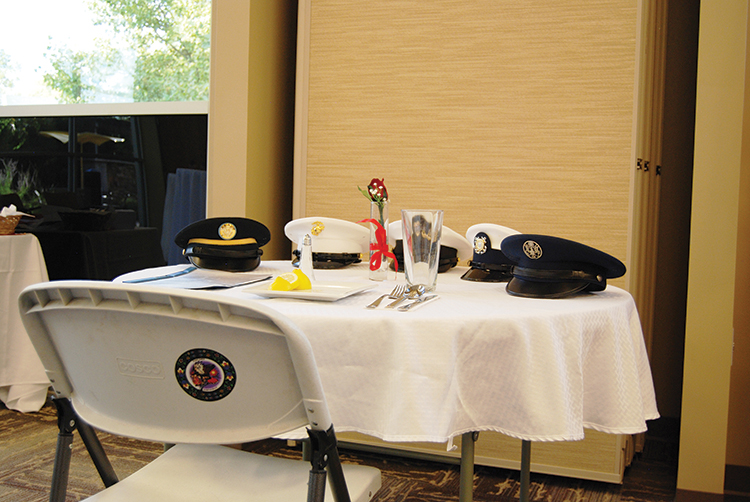 While the reception is an opportunity to mingle with other guests, another important aspect is the POW/MIA table. The table is set with a white tablecloth, a single candle, an inverted glass and a single red rose in a vase with a red or yellow ribbon tied around it. There is a single chair at the table. Set at the table is a single plate containing a slice of lemon and a small amount of salt. This represents the frailty of one prisoner alone against his or her oppressors.
For more information on the 2022 Veterans Tribute Ceremony, see the story from this issue of Crossroads.